About Us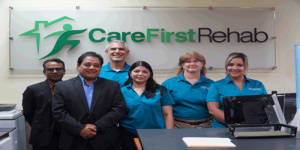 Our mission at Care First Rehab is to provide the highest quality of rehabilitation services to our patients. Combining traditional care with innovative technology provides "Care First" for each and every client. Offering the convenient choice of having your therapy on-site at our Cary clinic or in the comfort of your own home.
Care First Rehab is dedicated to treating all our patients with kindness, compassion and exceptional care. Together, as a team, we work to provide therapy services that improve the quality of life for each and every patient. Our intent is "Care First" for each and every client, at any age.
About the Owner
Prashant hails from New Delhi, India where he earned his Bachelor's degree in Occupational Therapy. Since 1992 he has gained experience as an outpatient and Home Care Occupational Therapist as well as roles as facility Director and Regional Director, Co-Owner and currently CEO of CareFirst Physical Therapy.
His vision is to put a patient's Care First in every visit with a therapist. Prashant has a warming charisma which creates a confidence from his patients allowing them to embrace the plan of care and reach a better state of well being.
Prashant has an active role at Care First Rehab and you will often see him assisting both therapists and patients in the clinic.