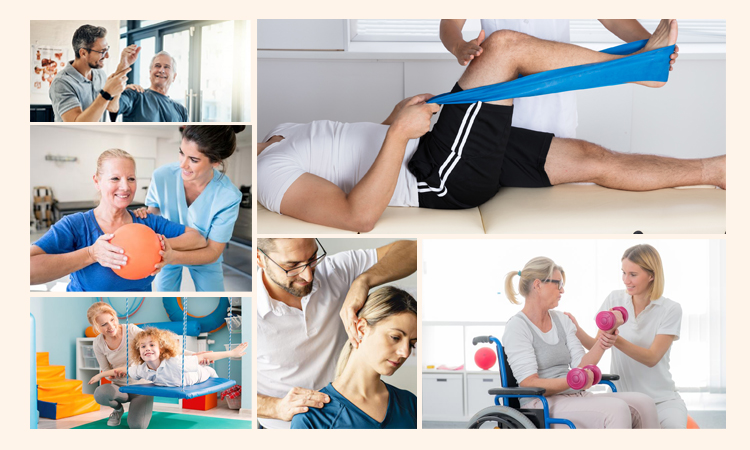 Physical therapy focuses on assisting a patient with body movement, and occupational therapy on helping a patient with activities of daily living such as bathing, dressing, walking and eating.
The medical fields of physical therapy and occupational therapy sometimes overlap, but they are also distinctly different in their approach. Essentially, physical therapy treats people for injury, illness or physical limitations, while occupational therapy helps improve the everyday routines of those who are recovering from injury, illness or physical limitations. Occupational and physical therapists guide people through the rehabilitation process, improving their quality of life by educating them on how to care best for their bodies, setting goals and benchmarks as they progress through their rehabilitation, and enabling them to navigate their home and work environments safely.
What Does a Physical Therapist Do?
The American Physical Therapy Association describes physical therapists as "movement experts" External link who improve a person's quality of life through exercise, "hands-on care" and education. If you pursue a career as a physical therapist, you will be devising personal treatment plans for people suffering from injuries — from sports or other accidents — as well as those with chronic conditions, such as those who experience loss of mobility from a stroke. A physical therapist may work with people of all ages or specialize in a certain age group (e.g., young athletes with injuries at a sports medicine clinic). Physical therapists also work with people who have physical disabilities, including veterans injured in the line of duty.
What Does an Occupational Therapist Do?
The AOTA defines OT External link as helping people "participate in the things they want and need to do through the therapeutic use of everyday activities." Occupational therapists create treatment plans, help people relearn essential tasks such as getting dressed in the morning, and educate family members in ways they can assist their loved one.
Occupational therapists work with many types of patients, from children to young adults to seniors. They might help a child who lives with a disability and struggles to participate fully in school, a stroke patient trying to regain movement or someone injured in a car accident. They may create a treatment plan for someone with cerebral palsy or another chronic condition so that they can navigate day-to-day life.
How Physical Therapy Helps
A physical therapist is a licensed health professional who treats a person's impairment by improving circulation, bone alignment, muscle strength and mobility. PT also decreases pain, inflammation and muscle spasms to help with overall body mechanics.
PT sessions may include a combination of ultrasound, electrical muscle stimulation, ice, heat, laser, massage, reconditioning exercises and weight training. The physical therapy discipline supports a number of sub-specialties including geriatric, orthopedic and cardiopulmonary.
How Occupational Therapy Helps
An occupational therapist is a licensed health professional who helps a patient develop, recover or maintain the ability to carry out everyday activities and work skills. OT involves hands-on rehabilitative work to engage individuals more fully in daily life.
OT also entails making adaptations to a person's environment such as adjusting walker height, adding a shower bench or reconfiguring a computer workstation. The holistic OT approach also considers the cognitive challenges, emotions and behavior that keep patients from participating in their normal routines. Occupational therapists typically evaluate a client's home, workplace or school setting to determine necessary training, adaptive equipment or life skills to help improve daily functioning.