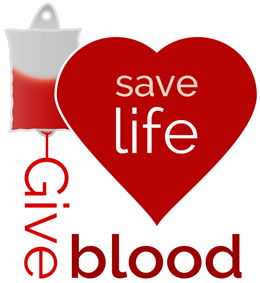 January was declared by President Richard Nixon to be   National Blood Donor Month. It's the perfect time to resolve to be a regular blood donor and help save lives. 
According to the American Red Cross, about 38 percent of the U.S. population can donate blood — but only 10 percent actually do. Every time we donate one pint of blood, the potential is there to save three lives.
The American Red Cross needs 13,000 blood donations every single day to maintain an appropriate blood supply. Fortunately, eligible blood donors can donate blood every eight weeks.
The Facts…
Type O is the blood type most often requested by hospitals. Type O negative blood (red cells) can be transfused to patients of all blood types. It's always in great demand and often in short supply. Only 7% of people in the U.S. have type O negative blood.
AB positive blood donors are universal donors of plasma. Only 3% of people in the U.S. have AB positive blood.
A single car accident victim can require as many as 100 pints of blood.
Blood donation is a simple four-step process: registration, medical history and mini-physical, donation, and refreshments.
Donating blood is a safe process. A sterile needle is used only once for each donor and then discarded.
The actual blood donation typically takes less than 10-12 minutes. The entire process, from the time you arrive to the time you leave, takes about an hour and 15 minutes.
Most donated red blood cells must be used within 42 days of collection
To find out more about donating blood, about the American Red Cross, or to find a donation center or blood drive, please visit www.redcross.org.