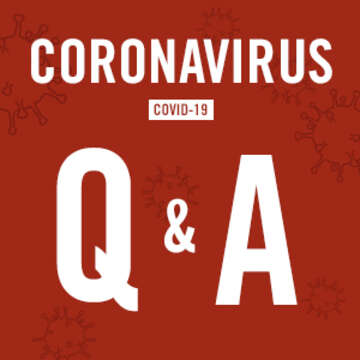 Where can I find reliable information and timely updates about COVID-19?
This continues to be a rapidly changing situation, the CDC provides regular updates and guidance. In addition, your local, county and state health departments' sites are likely a good source for details about the latest developments close to home. Please visit Wake County's website for more detailed information regarding COVID-19, https://covid19.wakegov.com/.
What are the symptoms of COVID-19?
Mild to severe respiratory illness with fever, cough and, in some people, difficulty breathing. These symptoms may appear two to 14 days after exposure to the virus.
Who's at highest risk of getting the virus and becoming seriously ill?
Despite the rapid spread, overall risk remains low for most people in the United States. But the risk is higher for some groups.
Older adults with heart disease appear to be at higher risk of getting COVID-19.
People of any age with serious underlying medical conditions — such as diabetes, cancer or kidney failure — may face a higher risk of complications if they do get infected.
Stroke survivors may also face a higher risk of complications.
People at higher risk of developing serious COVID-19 illness should take special precautions.
What are the easiest ways to avoid the coronavirus and keep it from spreading? Washing your hands frequently for 20 seconds with soap and water or using hand sanitizer is best. Also, don't touch your face, don't touch surfaces in public and keep your distance from people. If you cough or sneeze, do it in a tissue and throw that tissue away. Learn all about prevention on the CDC's How to Protect Yourself page.
How should I clean and disinfect my home?
There are a variety of things you can do. Focus cleaning on high-touch surfaces first: countertops, doorknobs, cabinets, the refrigerator. The CDC breaks down the details.
Can the virus be spread through food?
There's currently no evidence it can be. Coronaviruses are generally spread person-to-person through respiratory droplets. Before preparing or eating food, wash your hands with soap and water for 20 seconds, or use hand sanitizer.
Can the virus spread through drinking water?
It hasn't been detected in drinking water. Most water treatment methods should remove or inactivate the virus that causes COVID-19.
Will warm weather stop the COVID-19 outbreak?
We know that warm weather will not stop the outbreak as seen in the state of Texas. Some other viruses, like those that cause the common cold and flu, spread more during cold-weather months, but you can still get them during other months.
I'm hearing hospitals are strained right now. Should I still call 911 if I am having a medical emergency?
Yes. Always call 911 at the first signs or symptoms. Doing this quickly can save your life. It's still the right thing to do, even in this unprecedented time.
I am not sure if I should pursue or continue rehabilitation therapies (PT, OT and Speech Therapies) while COVID-19 is spreading in North Carolina?
Therapies like physical, occupational and speech therapies are considered essential in medical care. This is why Care First Rehab has been providing services and continued patient care to ensure our patients can continue on their recovery journeys. Care First Rehab has gone to great lengths to ensure the safety of their patients and staff by adhering to all CDC guidelines including safety standards and precautions. We do offer in-clinic therapy, at home therapy as well as telehealth sessions for all disciplines of therapies. In our clinic, there is continous santization of equipment, furniture, ongoing handwashing by clinical staff and patients, and use of PPE at all times. The facility is cleaned on a hourly basis to ensure safety of all. Home therapists practice the same precautions and safety measures to ensure patient and clinicians are safe. Feel free to call our office and speak with us about your needs and concerns at 919.460.1921.