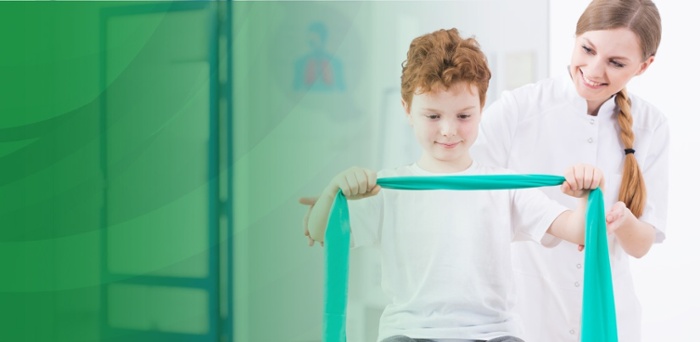 Does your child suffer from orthopedic injuries such as fractures or sprains? Do you have a child who is diagnosed with autism, developmental delays or sensory motor impairment? You can help your child gain function, strength and confidence through pediatric physical therapy.
Physical therapy can appear overwhelming for children at first, but it doesn't have to be. Here are three tips for making physical therapy a positive, rewarding experience for your child.
Work with a Therapist Who Has Experience in Pediatric Physical Therapy
Although any qualified therapist can work with your child, selecting a pediatric physical therapist offers some distinct advantages. A therapist with training and experience working with children is aware of the unique conditions and treatments specific to young patients. A pediatric physical therapist also has expertise in dealing with the emotional issues children can face. These therapists know how to allay fears and make physical therapy an experience your child doesn't have to tolerate, but will enjoy.
A pediatric physical therapist will consult with you before the first treatment session. As a parent, you need to understand the exact treatment your child will receive. You also need to make your therapist aware of any concerns, such as specific fears or behavioral issues. This helps set the tone for a positive first physical therapy session and can carry over throughout your child's treatment.
Consider In-Home Pediatric Physical Therapy
Having your pediatric physical therapist come to your home is a treatment option that often works well with young patients. In-home pediatric physical therapy is a good choice if your child:
Is anxious in medical settings
Doesn't respond well in a busy environment, such as a large treatment room with many other patients
Has mobility issues and can't easily be transported to a physical therapy clinic
Is self-conscious about an injury or condition and prefers the privacy of home
Before your child's first in-home treatment, be sure to check with your therapist about any specific space or equipment requirements. It's also a good idea to ensure that other family members or pets are clear of the treatment area and that external noise such as music or television is kept to a minimum.
Incorporate Physical Therapy into Your Child's Normal Routine
Making your child's physical therapy treatment a part of his or her daily routine is critical to its success. The best way to do this depends on whether physical therapy is short-term (such as for an injury) or long-term (such as for a pre-existing medical condition).
Physical therapy to aid in the recovery from a broken bone often begins after the cast comes off. At this point, children are usually eager to begin participating in favorite activities or sports again even if they aren't quite ready yet. Because this type of therapy normally has a projected end date, having children track progress on a calendar can help them more readily work toward physical therapy goals.
If your child will be participating in long-term physical therapy, it's even more crucial to make therapy part of a day-to-day routine. Having a calendar of activities can also work with long-term therapy, with your child tracking overall progress rather than aiming for a specific end date. In addition, a child who is resistant to therapy might become more accepting if the completion of a therapy session or specific goal is followed by a "fun" activity such as watching a favorite TV show or playing a game.
Every parent wants to help his or her child to be as healthy and productive as possible. Whether your child is recovering from an injury or dealing with a developmental condition, working with a pediatric physical therapist could provide a more positive experience and successful treatment solution.
Care First Rehab in Cary, NC provides on-location and clinic therapy services including physical, occupational, pediatric, speech, massage, sports injury and more. Contact Pragati Sonker at (919) 460-1921 to schedule your therapy appointment.