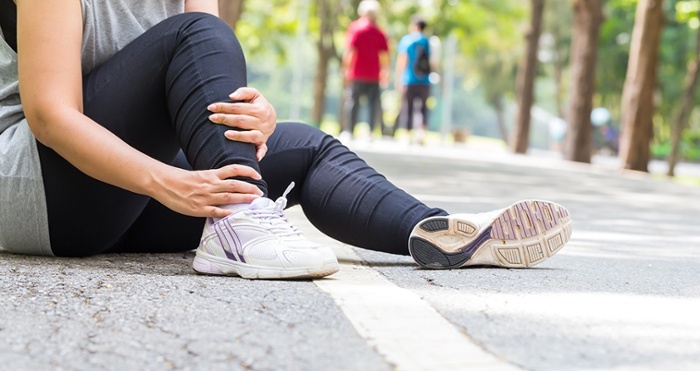 If you're subscribing to the old adage of "grin and bear it" when it comes to an injury, you're not doing yourself any favors. The pain will most likely get worse. Researchers say that over time, putting up with chronic pain will develop into more serious issues. And now that summer is upon us, you'll want to spend more time outdoors, being active, and doing things that you enjoy and not being side-lined by an injury.
These are common, undertreated injuries that you should seek treat for or risk more serious damage:
Hamstring Strain
The most common causes of hamstring strains are strength imbalances and improper form. Athletes are especially susceptible when they run their fastest. The quicker you go, the more pressure you put on the hamstrings because you extend your stride. Mark Ansbrow, a prominent physical therapist in Raleigh, NC says, "Muscle pulls and strains are the most prevalent in the spring and summer months."
This kind of injury takes at least four weeks to heal. It can often be longer since we walk every day, putting more pressure on the muscles. The best way to avoid the injury is through strength training. Although most athletes return to their sports three to four weeks after the injury, one-third will re-injure their hamstrings within a year, according to a 2010 study published in The Journal of Orthopedic and Sports Physical Therapy. A physical therapist can assist with both the current injury and how to avoid re-injury.
Ankle Sprain
A 2008 study in the Journal of Sports Science and Medicine Ankle stated that sprains account for 15 to 30 percent of all sports injuries. It estimated 23,000 ankle sprains occur daily in the United States, with the total cost of treatment ranging from $318 to $914.
Although the ankle is a very mobile joint and it's meant to move, an unnatural inward twist tears the ligaments that are located on the outside of the ankle. Physical therapist, Deb Bishop, recommends, "A good way to reduce this painful injury is by doing flexibility exercises in order to prevent loss of balance and strength."
Achilles Inflammation
A 2008 study cited an inflamed Achilles tendon as the most common running associated injury because of a weak spot at the heel. The most common mistake people make is that they increase the number of miles they run too soon or add inclines too quickly.
Since summer activities often incorporate running, this increases the risk of this type of injury. Your physical therapist can give you additional strength building exercises to ramp up safely.
Bicep Tendon Rupture
Summer time is also the time most people try to get into better shape. Bicep curls are some of the most common exercises at the gym. But lifting dumbbells that are too heavy is a recipe for injury. The same can happen if you quickly drop the weight. The best way to prevent bicep tendon rupture is by lifting weight you know you can hold while maintaining proper technique.  A better solution is to choose a facility with a compression system and a hydraulic mechanism.
Rotator Cuff Strain
Throwing fastballs isn't the only way to aggravate the four little muscles that hold your shoulder in its socket. "Swimming, too many pull-ups, tennis, gardening, digging, and heavy labor can all cause a strain," says Deb Bishop. Five to ten percent of people who swim regularly suffer a shoulder injury.
The potential for rotator cuff damage rises with age as the shoulder's tendons degenerate. The estimated average cost to surgically repair a torn rotator cuff is $13,000. Your physical therapist can recommend the proper strength training exercises to prevent degeneration and surgical costs.
Instead of dealing with chronic pain and hoping it will go away in time, let a physical therapist determine the cause. They can recommend treatment and exercises that can remedy the problem and the pain associated with it. Taking care of things like this can be stressful, but in the long run you will thank yourself you did. To make it easier, take advantage of offers like free in-clinic screenings and check out the article, "How to Prepare for Your First Physical Therapy Appointment."
Care First Rehab offers physical therapy in Raleigh, NC and their physical therapists can help you avoid re-injury by educating you on proper training practices, sound techniques, and stretching exercises. Exercising and being active is not only enjoyable, but it's essential to your health. Contact a physical therapist today.
Recommended Resources
14 Most Common Fitness Injuries
The 5 Most Common Sports Injuries