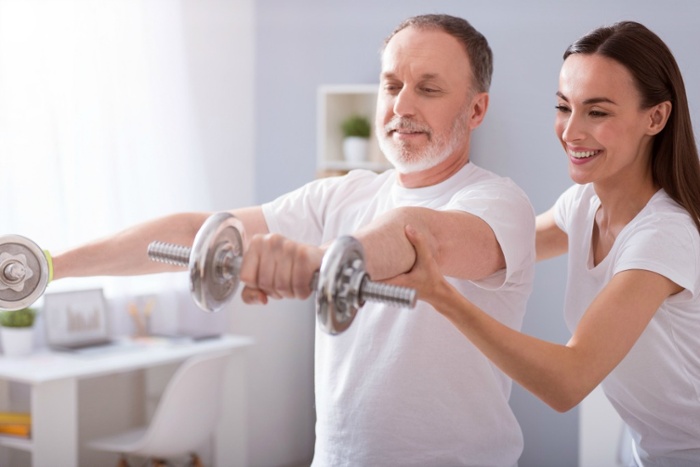 In home physical therapy is not limited to star athletes and the elderly. There is a misconception that in order to receive physical therapy, you need to have a painful injury or be suffering from limited movement. In reality, everyone benefits from in home physical therapy. From children to athletes, office workers to the elderly, a physical therapist can help relieve pain and heal injuries as well as prevent future injuries from happening.
There are many types of injuries that require physical therapy, and it's important that the therapist can identify the problem while also creating a treatment plan with the individual patient in mind. The physical therapy routine for a child will be different for an elderly patient, even if the injury is similar. A physical therapist will know which exercises and treatments will work best as well as how the patient can perform them.
There are many injuries and conditions that physical therapy can help heal. These range from severe which require intensive therapy to smaller injuries such as a sprained ankle. Some of these injuries include:
Pulled or torn muscles
Broken or fractured bones
Headaches
Inflamed tendons and ligaments
Back and spine pain
One of the biggest benefits of in home physical therapy, is the convenience that it offers. If someone is suffering from immobility due to pain and being home bound, having a physical therapist come to the home means they won't have to deal with the added stress of getting to an office. This reduced stress allows the patient to focus on their recovery in the comfort of their own home. Because they will be in their own home setting, they will create a routine that can be done even after the therapist leaves. Therapist are also able to travel to schools, daycare centers, nursing homes and more at no additional cost. Meaning no matter the situation, a therapist will help get people get back to being pain free.
No matter the injury a person has and regardless of age or gender, in home physical therapy will be beneficial and will help to reduce pain associated with various injuries and ailments.
Care First Rehab in Cary, NC provides on-location and clinic therapy services including physical, occupational, pediatric, speech, massage, sports injury and more. Contact Pragati Sonker at (919) 460-1921 to schedule your therapy appointment.