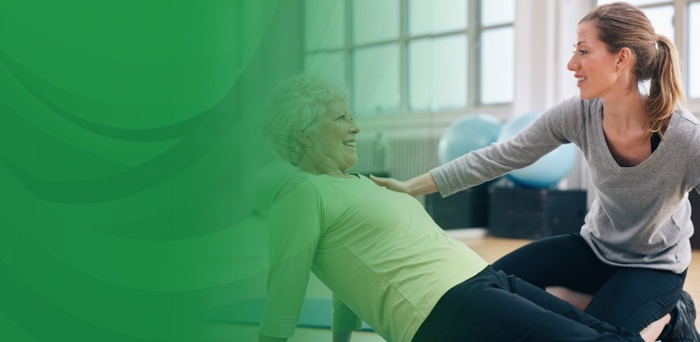 If you or a member of your family needs physical therapy to recover from an injury or manage a condition, you need to know how to find a great physical therapist – one who clicks with you. If you have a good relationship with your physical therapist, you'll feel more motivated to actively participate in your recovery plan, which will get you stronger, faster.
Use these 5 tips as you get to know the physical therapists in your area so that you can find one who best fits your needs:
Qualifications and Experience
Not every physical therapist specializes in helping with every type of injury. Ask your doctor or other people who've had an injury or condition like yours to suggest a physical therapist who can diagnose and help you recover from your particular injury.
For example, if you have a musculoskeletal injury or condition, you'll need specialized orthopedic physical therapy or perhaps sports physical therapy. If you're an athlete, an experienced sports physical therapist is important.
If you have a child who needs a physical therapist, you'll need to find one who specializes in pediatric physical therapy, understands the unique developmental needs of your child, and has specialized qualifications and training to work with children.
Check the Online Review Sites
In addition to asking your doctor and other friends or family members you know who have had physical therapy in the past, go online and look at review websites. Look into their reputations, experience, and reviews. Also, visit the websites of physical therapists suggested to you by friends and doctors. Especially look to see if your physical therapist is licensed and what sort of experience and qualifications they have, in addition to any ongoing post-graduate training.
At Home Physical Therapy Options
For many patients, getting out for physical therapy appointments can be a challenge because of their injury or condition, even if the office is close to home. Find out whether or not your physical therapist provides at-home physical therapy.  An experienced at-home physical therapist will observe how your home is setup and suggest ways that you can follow through on any exercise or stretching protocols they provide you, in the comfort of your home. They can also suggest precautions and alternative ways to handle your chores at home to avoid further injuries.
A Free Consultation
Personalities are very important when it comes to succeeding in sports and orthopedic physical therapy settings, and especially in pediatric physical therapy situations. Contact your potential physical therapist and ask if they offer a free consultation to give you the chance to get to know him or her before committing to a course of physical therapy. With a free consultation, you can find out if your physical therapist really listens to you, understands your needs, and will provide the kind of motivation you need to follow through with your physical therapy plan.
Insurance and Payment Plans
Another important thing to consider is the cost of a course of physical therapy. Check websites or call the Physical Therapists' offices to find out if they accept your insurance, or if they offer other payment options. Find out if they will submit the claims on your behalf and how much co-pay is necessary.
Care First Rehab in Cary, NC provides on-location and clinic therapy services for physical, occupational, pediatric, speech, massage, sports injury and more. Contact Pragati Sonker at (919) 460-1921 to schedule your therapy appointment.