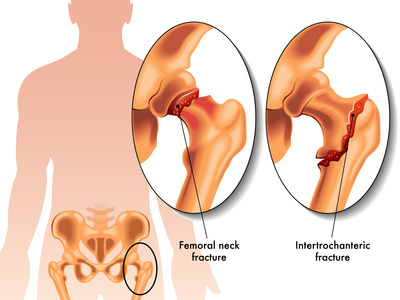 The hip is an important weight bearing joint in the human body. Repetitive stress to the femur (thigh bone) over time can lead to the formation of cracks in the hip joint, which is the junction of the pelvis and the femur. For most individuals, simple cracks can heal over time without the need for surgical intervention. For others, it may escalate into a fracture.
A fracture can occur in one of three possible locations – at the top near where the femur joins the pelvis, in the middle of the thigh bone, or the bottom near the knee joint. The femur reaches a breaking with a fall (a particular risk for seniors), vehicle accident, or during competitive sports.
Regardless of the location of the fracture, an individual will experience extreme pain and movement restriction. Tingling or numbness in the area may accompany the pain, along with swelling and the inability to walk, stand or tolerate pressure on the leg. If left untreated, complications may include uncontrolled bleeding, blot clots, infection and pneumonia.
The femur is a major weight-bearing bone and the rate at which it heals is dependent on factors such as age and underlying medical conditions such as diabetes. Full recovery can take approximately 12 weeks to several months and may require surgical intervention.